Book 3 of the series:
"Sacred Hearts"
has just been re-released.
For a limited time during Hanukkah (the Jewish holiday mentioned) this is available from
Amazon
and
Barnes and Noble
for just
99 cents!
I talk more about Sacred Hearts which was probably my favourite of the series in my upcoming interview with Dev, and she will have a free copy of one her books to give away to a lucky commentator. In the meantime, here's my review of the first book in the series.
This has another stunning cover by Jordan Castillo Price.
---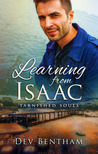 Learning from Isaac
by
Dev Bentham
My rating:
5 of 5 stars
In this era of endless series and sequels, it's refreshing to find a whole swag of standalones.
It means the author has to come up with fresh characters, plot and setting each time. Not easy. But very rewarding when it is done well.
While on the surface this is a series because at least one of the heroes is Jewish and the observance of religion at some point touches on the story, the only other connecting link is that the world they live in is loosely interlinked. So if characters from other books make a cameo appearance, it's more wondering how they got together as a couple or what their story is. Hence the books can be read in any order. In fact, the last in the series actually began first.
They are not cut and paste jobs either. Each story is unique and the characters are quite different.
There are no MM stereotypes or cliches.
Sure older professor and student has been done before, and if that is all you see in a story then you might not agree with me, but I love the detail the author has painted around that central premise.
These feel like real people, not story book characters. I liked the way the author took her time to establish their personalities, because this is what makes each rendition of this religious holiday theme different.
Nathan, a professor of ecology, is painfully aware that his youth is slipping away and fears that he is destined to spend the rest of his life alone. At first, the constant attention of a young good looking student is flattering, but Nathan is a stickler for the rules so he ensures lines are not crossed. Isaac is smart. He keeps pushing at this barrier, feeling correctly that they can meet each other on equal terms one day.
But they're not equals in other ways. Isaac is a student having difficulty paying for his education. Nathan is comfortably off.
Isaac was thrown out by his family when he came out. While Nathan comes from a supportive family. He even noted that Isaac, being Jewish and attractive was exactly the sort of boy his mother woud approve of.
Then something happens that neither can prevent, and the attraction that had been simmering explodes to the surface. Once there and acknowledged, they need to work through the ramifications as it pertains to their lives.
As the author states in the acknowledgements, the religious context comes from Passover, and the fact that it celebrates the freedom from bondage.
Religion per se isn't so much present as an observance of religion. This mirrors Nathan's observance of the rules pertaining to relationships with students and men much younger than himself. It also allows us a glimpse into the lives of others. And isn't that one of the reasons we read?
Dev is gradually re-editing these books as they come of out of contract and reissuing them. Chronoligically, it was the second book she ever wrote and like most authors, her skills have developed since then, allowing her to see flaws and places where it could be improved. I have only read the latest version and it is more than fine.
And for another example of her talent, here's my review of her latest book which
features a road trip
Driving into the Sun
by
Dev Bentham
My rating:
5 of 5 stars
This makes it two out of two for this author's books so far for me. The character's backgrounds form an important part of her stories. They have affected who the character is and the issues they are dealing with.
Perhaps an expert in the field may be able to find an error or two, but from the point of view of a novice in the subject, her dealing in this case with a Native American seemed respectful and informed.
The complexity and gradual, realism of forging a strong bond won't satisfy the readers who love insta-lurv and perfect characters, but boy does it make a welcome change because of that.
The last scene on the ferry at Seattle was extra good as I did that on my long road trip there earlier this year. She got that part spot on. Right down to the clunking as cars rolled into place. Magic.
Now to see if she can make it three from three.
View all my reviews